Time To Write History: Serbia – Australia Preview
June 23rd, 2010 | by: Nikola |

Comments(138)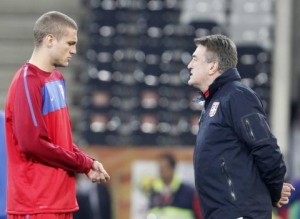 This is it, ladies and gentlemen, it's either all or nothing for both Serbia and Australia tonight. I've already explained all the possible scenarios in the previous post, but even with all all these complicated calculations, both teams practically have to win to go through. Plain and simple. Therefore, this promises to be fiery encounter, a game that means a lot to both teams and that will offer a lot of excitement, joy or despair. It's a historical one, a chance for Serbia to advance from the group in it's first-ever appearance by that name, a goal that was set before, but seemed rather unrealistic after our first game against Ghana. To bounce back and qualify is something very untypical for our team because of it's generally weak mentality, but this generation seems to be something different, something special. A win against Germany shocked the world, and now an another win against Australia would complete this fairytale scenario. We start the game as favourites, have more quality than our opponent, but have to show our true class and commitment against one of the most hard-working teams in the world with a never-say-die-attitude that must be highly respected. It's a first game between Serbia and Australia in history, making it even more interesting and unpredictable. Croatia had the very same scenario in 2006, but didn't manage to defeat Australia, crashing out of the tournament at the group stage. Is history going to repeat itself?
Australia may not be a football heavyweight, but the talent they posses and the experience of their players is something that must be taken in consideration. True, they may be without Harry Kewell, Vicenzo Grella and Craig Moore, some of their best players, but the likes of Tim Cahill, Mark Schwarzer, Lucas Neill, Mark Bresciano and Brett Emerton will be there, making their line-up one of the oldest and the most experienced in the entire World Cup. They are a hard-working side, giving their best on the pitch and making it very hard to overwhelm them, with their 4-0 loss against Germany being the only weak result I can think of. Against Ghana, they played with 10-men throughout much of the game, but yet pressured their opponent to the very end and were very close to claiming the three points. In other words, they must be respected as a team, and we must be very careful – a slip in concentration (especially if we take a lead) might cost us dearly and probably the only way to defeat them convincingly is to open up, run as much as we can and put pressure throughout the entire 90 minutes – to sit back and wait might end in a catastrophe.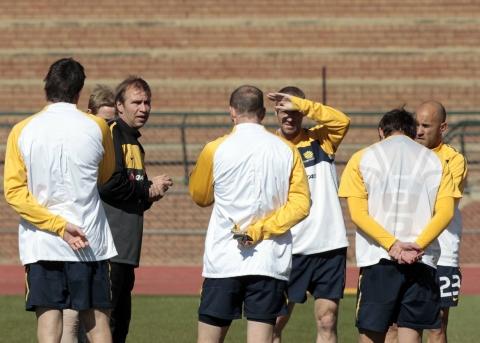 Serbia go into this game with a very high-morale and self-belief that wasn't seen for some time, probably for some ten years or so. To defeat Germany was a historical feat, a win that means a lot more than just the 3 points we had needed for advancing for the group, it's should be a trigger for this team to wake up, realize it's true potential and end this several years long apathy in which both the players and the fans expect some kind of a disappointment, humiliation or something even worse every time we play the games that really matter. As a matter of fact, this game will prove whether the win against Germany was a coincidence, one single flash of brilliance, or a turning point for us in this World Cup.
Unlike Australia, we go into this game with a full contingent of players, with Aleksandar Luković returning to the squad after a one game absence due to suspension. However, Antić could have problems of a different kind: five our players have a yellow card, with our whole back-line that played against Germany (Kolarov, Subotić, Vidić and Ivanović) being one card away from suspension. To play without the likes of Vidić and Ivanović in the second round would be a disaster, so Antić simply must avoid the rough play that would lead to them getting carded. He may employ Luković instead of Subotić to ease that pressure, but with Vidić being under a danger of missing the next game, it may be wise to rest him for this game. But how can you rest your key player in a key encounter is beyond me, and it would be very brave (or foolish) for Antić to do so. If I were him, I'd probably replace Vidić and half-time if we take a lead and he doesn't get carded, but that might not be very wise. I hate yellow cards, you know?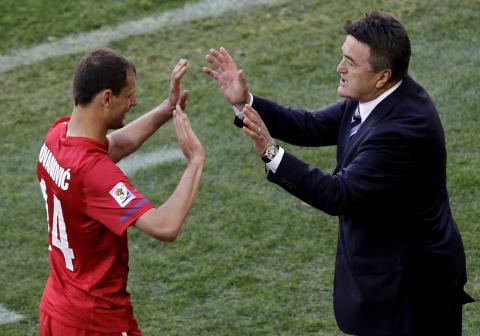 The expected line-up:
———-Stojković———-
Ivanović-Vidić-Luković-Kolarov
———Kuzmanović———
—-Stanković—Kačar——-
Krasić————–Jovanović
————Žigić————

How should we play?
There was already a discussion in the previous post about the way we should play against Australia. But, let's say it again: I believe that we should try to pressure the Australians as much as we can and go for a win no matter the result in the other game. If we take a lead, we should try to score more, the only way to prevent the Aussies from making our dream a nightmare is making their own life miserable by our offensive play, especially on the wings, where Jovanović and Milos Krasic should be too much for their full-backs. We have the attacking capabilities to exploit their weak defense and score some goals, but if we sit back and try to defend our lead (or even worse, a point) we may end up crying – Australia certainly won't give up.
One other thing to take into consideration is the fact that Australia also needs a win to go through. True, they need either a high-scoring win combined with a convincing Ghana loss, or simply a win if Ghana defeats Germany (which are both extremely unlikely), but they will definitely go and give their best to achieve their goal. That bodes well for Serbia, because our opponent will be very eager to go into a all-out attack and get vulnerable at the back. The only thing that worries me is that we might try to exploit that weakness by defending and waiting for a counter-attack, and that could be wise only if we put a lot of pressure every time they cross the half, not if we sit back and wait for them. Yes, I might be repeating myself, but I think most of you will agree with me on this one. So, an attacking game and a full commitment is what we need to win this one. Any other calculations might send us home without a proper fight.
What is more to be said than Napred, Beli Orlovi! Napred, Srbija! Srce na teren!
Subscribe

Serbia World Cup Team Blog RSS Feed

Share
Comments

I nominate Milos Krasic for an Oscar for his dive early in the game against Australia.
Posted from
Australia

Yaahh Ghana!
Who said stinkin USA was going to win anything?
My boys came through. There is Rajevac in the quarterfinals. Where's Antic?

Just saw the highlights of the ghana game.
That was a clean tackle by the Ghanian defender inside the box. He got his foot on the ball before he even made contact with the US player.
This is the worst call I have seen yet. A gift (undeserved) to the stinkin US.
Anyway the scumbag US is gone now…Yahooo!

Hahahahaha …we are the champions… I told you
anyway our group was won by the best teams: GERMANY and ghana
Serbia can support Ghana, since their coach is a serb
Posted from
United States

What did I say?
I believe I said "Germany is head and shoulders above this England team."
What an embarrassment for the limeys. Their goal was really the only chance they made for themselves.
Now this Germany team is playing up to their potential. Like I said many times, a good solid side—the only problem is a bit of mental fragility.
But unlike the Serbs, who are very similar to this team, the German team continued building confidence with each game.
This is what killed the Serbs. They put in a good effort against the Germans, and then went back to their old gutless selves. They could have and should have built on the confidence from the German game, but, incredibly, they did not.
Interesting to compare this game, which the krauts simply dominated, to the Ghana game, which had great chances for both and could have gone either way.
I'm sure it was a nailbiter for our German friends.

Our Serbian friends have vanished

They are licking their wounds. I hear the whole of Serbia is now behind Ghana, so I am waiting for a Ghana-Germany Finals. We will make the Serbs cry again
Posted from
United States

Antic is useless, but the Serbs just found out
Posted from
United States

Don't get too carried away Manfred.
Next game is Argentina, a powerful side that knows how to win consistently.
Can Germany beat Argentina? I believe they can—if they show the same kind of mental toughness that they showed against England (and Australia and Ghana).
But, if like the Serbs, they fall apart mentally then they will get beat by a very capable Argentina side.

we will beat them easily 3-0
I guess u are from Ghana…right? if so then we will meet u again in the finals
Posted from
Finland

No I am Serb.
But I like the Ghana team because they show spirit. They could have easily drawn that game against Germany and they made lots of good chances.
Don't be so sure about Argentina. Germany has not met an opponent of this calibre before. This is not England or Australia.
Even with Ghana, the Germans had their hands full. I think probably Argentina should win. I have always been a big fan of South American Football.
You're probably too young to remember 1990 when Germany beat Argentina in the final. Yugoslavia had a very strong side that year and lost to the Argentines in the quarterfinal on penalty shootout.
As usual the dummy Serbs shot themselves in the foot by missing one of the penalty shots—blasted it way high over the bar, for crying out loud.
This was a game we could have won, despite the fact that Argentina were the defending world champs and had the great Maradonna in great form.
The German side that year was very strong. I don't think you can compare this side with the 1990 team.
But who knows? Always in sport in comes down to desire and heart…

Ghana is also in tough against Uruguay, a very strong side.
I think this round is probably the end of the road for both Germany and Ghana…

If your expectations for Serbia are zero, then it is really easy to make you happy. Defeating Germany means nothing now, they advance and we sit here trying to prove some miniscule points (prehaps I am a bit of a hypocrite) to each other and to say I told you so. This is what I write about, morons like you Sasha apperently don't care for Serbia or how they fair at international events. And before you call me a "disgrace" you ignorant prick, why don't you read up on the battle of Kosovo and the Balkan wars and tell me if Serbia's standards were to just show up to the battles. If anyone is a disgrace it is you, people like you make me sick. This will be my last post on this forum because when people like sasha write that they are proud of a team that finished last in their group comprising of AUSTRAILIA, GHANA, and Germany (whom we beat), it makes me sick. If these are the results you find acceptable then Serbia has lost. Serbs have lost. You speak of hopes and dreams, and mystical far away places where all is right with the world when you don't realize thats all garbage. They only way to get things done is to actually do things, not to wait and have time takes it course. In conclusion, if your expectations are zero, then you your self are a ZERO. You can sit in your chair and call me a disgrace to Serbia behind your computer screen, but you can't stand up for your country, your people, or your history. The War is not won by winning just one battle, it requires more. It requires something called a heart. You and the entire Serbian soccer team have lacked that so far. And with that I bid you a good day. I am sorry that it came this far. Goarnaut is right guys, sorry but thats the cold hard truth. SERBIA forever!!!!!!!!!!!!!!
Posted from
United States

What a cry-baby ; want milk NOW ! Serbia were ranked 15 going into the WC . What did you expect , we would just run over everybody ? Ghana beat the USA and USA are ranked ahead of us . Australia is just a few points behind . For some reason you think we are entitled to win everyone . You have not one bit of evidence for your lack of heart theory except that you need someone to blame .
Two quotes from you :
1. "You speak of hopes and dreams, and mystical far away places …"
2."why don't you read up on the battle of Kosovo and the Balkan wars"
Need I say more ? You are living in fantasy land .

Another thing , everyone keeps mentioning how great our qualification campaign was . And to be sure it was a great result but there were a lot of matches where we didn't control the flow of the game and still won . We were not able to defeat a fairly weak French side and you see where they ended up . The friendly matches also featured plenty to be concerned about . And yet we still end up with better records than Denmark , Greece , France and Italy .
The result we obtained was fairly predictable and had nothing to do with lack of heart . That is just the sore losers' argument .

Bizarre. Qualification for the World Cup is an amazing achievement. Croatia 1998 play is long gone history relegated to the dustbin. Talk about today, pal. Or maybe remind us of probably the greatest loss in all of sporting history,. Croatia and Turkey in Euro 2008. No thanks, I'd rather take making the Wolrd Cup that losing like that!!!
Serbia's achievement to qualify was amazing! And something we Serbs were all proud of.
To say you would prefer not qualify is just absurd.
Posted from
Canada

I'm still laughing after Serbia humiliated Germany, but at Coach Low who was dressed like that gay character Bruno. He may have a future working with Borat and Bruno on a reality TV show!! Bruno, Borat and Low in one house! Gotta love it.
They can dress up like retards and kick a soccer ball around the kitchen.
Posted from
Canada

Just checked out our Euro 2012 Group. Looking good! I hope we keep coach Antic who did a superb job in the World Cup. Check out the FIFA web site final analysis on their website of Serbia, Spot on. Remarkable team, loaded with talent that came up short.
One stupid hand ball against Ghana, and an amazing attack against Australia that came close to a tie and we would have been through. And of course the dismantling of mighty Germany showed the world the power of this team to shock when it clicks,
But I was really proud to be a Serb because they played like gentleman, respectful in victory and defeat, real class and style and something all Serbs are proud of. And all led by that gentleman Coach Antic.
So proud to be a Serb today!! The entire world heard our beautiful anthem Boze Pravde, the most beautiful in the world and it will, God willing, ring through Europe again in 2012!!
Posted from
Canada

Argentina will be easy picking for us. The Argies are overrate and we will expose them
i want Ghana to go through so the Serbs still have an "interest" in the world cup
I only fear the Brazilians so I want the Dutch to stop them, then Ghana stop the Dutch, so we have an easy game in the finals hehehehe
Posted from
United States

Antic is a disaster waiting to happen. Get ri of him
Posted from
United States

Some more choice quotes from the one and only Goarnaut :
1. "Overall they (Serbia) outclassed the German side and Germans were lucky to finish down by only one goal."
2. "Serbia was lucky to hang on for the win (against Germany)"

Apperently the crayons that Manfred have been eating are toxic (goes without saying) and you ate a few yourself. Your agrument is based on the faulty premise that the Serbian soccer team had no talent, and because of this they were unable to win. This is, quite frankly, a gross misunderstanding. Serbia has top players from the top european leagues, and rack in an income in the millions. If players that play on teams like Chelsea, Manchester United, CSKA Moscow, Internazionale, Liverpool ,Ajax, Lazio, etc. are not talented, then I don't know what you consider talented players. If you don't think it was the lack of drive or determination which seemed to be the consensus at the start, then what else could it have been. Your theory that the Serbian talent couldn't compare to that of the mighty soccer machine of Austrailia is a joke. Was it the wind that blew a few miles per hour more than it should have, was it the fact that Antic didnt wear his lucky tie or use his lucky toothbrush? Get out of here, the reasoning is right in front of you and it pains us Serbs so much that some of us try to shun it away by coming up with our own less shameful explinations. I wish our problem was a lack of talent or a bad call, because then I could have the same expectations as Sasha. This, unfourtunetly, is not the case. Serbia is a world class team that forgot who they were and what they were doing which I think is a safe claim to make (i.e. the joking around in relation to costly handballs and poor play). Manfred Eats crayons and Sasha, and GOLEAFSGO! (I personally am a Hawks and Sens fan) I leave it at that. Please don't call me a disgrace to a country in which I love so much and wish to see win and succeed. I dont like getting in arguments with other serbs because of supid things. (only united can a strong Serbian state live). All I can say to you people who think I am blowing smoke out my ass is by simply saying I am sorry you feel that way. From this point on, I wont be putting other people down . I may make a comment or two there but thats about it. There is a larger picture here than just a soccer match, I hope we can all see it. It may also be an impossible thought to believe that I still like the Serbian soccer team, but I can tell you I will always cheer for them, they just need to know who they are, what they represent, and why just a little bit more. Cheers, CCCC.
P.S. Lets go Djoker, get your second.
P.S.S Germany beat England which tied the United States which in theory means thats Serbia was better than all three if these teams and more
P.S.S.S. Serbia for 2012 Euro and 2014 World cup!!!!!!!!!!!!!!!!!!!!!!!!!!!!!!
Posted from
United States

Hey , could you post that Fifa URL ; not sure have been able to find it .

No , I am most definitely NOT saying that we have no talent .
But: Zigic has hardly played for his clubs , Vidic hasn't had that great a season and Stankovic was hardly playing for Inter recently . I don't know much about Lukovic but after this World Cup , I don't hold him in high regard technically . Miljas , some analyst joked that not only was he the slowest man on the pitch , he was the slowest in the whole stadium . You can't argue that some of our players are just physically slow . That has nothing to do with heart ( lungs maybe but not heart ) . Don't you see how wrong you are ?
Yes , we had a good qualification campaign but we didn't dominate many of those matches and we didn't beat France so to say that we have slumped from our qualification form is not correct . Antic has only been at the helm 2 years and he has definitely managed major improvements . Give him another tournament or two . They were a little late this time . Zigic , assuming he stays , will have more playing time at Birmingham and might improve . I am not convinced about him but if Antic says he stays then he stays . Tosic should start playing regularly for his new club also . These are where the improvements can begin plus with Antic's excellent people skills we can hope for improvements . It has not much to do with lack of heart but with experience and experience playing within the team .
Things are taking shape , don't put the players down ! It has nothing to do with heart .

I hope you understand my point about Zigic and Stankovic ; i am not saying they are not talented . I am saying they were a little rusty coming into the World Cup .

where have you been? eating crayons i suppose
Posted from
United States
Comments are closed