Still A Bright Future Ahead
August 24th, 2010 | by: Bojan |

Comments(1)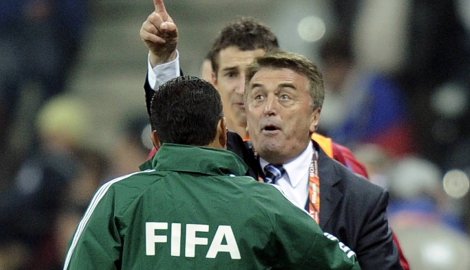 After a month and a half gone finally somebody had to talk about it. Serbia lost there final game against Australia. Many Serbian supporters will be outraged with the officiating in the game. Milos Krasic and Marko Pantelic scored two goals that were called offside. The more controversial one with Pantelic as he appeared to be on the line with the defense. Than as we have been punished the previous two games for handballs our luck didnt come on our end when Australia's Tim Cahill played the ball with his hand in the penalty area from a Vidic header. The refs played on and Serbia was eliminated from the World Cup. I myself am outraged at the officiating in this game let alone World Cup. However the Aussie's seemed to be more hungry. Serbia seemed to only show up after being 2-0 down other than playing a well 1st half. But what can we take from this experience of Serbia in the World Cup and what can we do to prepare ourselves in the future.
After the game with the Aussies Antic let his feelings be known and was suspended by FIFA for "inappropriate behaviour" against the referee. This means Antic won't be able to lead Serbia from the bench against the Faroe Islands, Slovenia, Estonia and Italy in the first four qualifying matches for the 2012 European Championship. His job was also up for grabs as Serbia Football Association president Tomislav Karadzic decided to leave Antic at the helm after not being able to find a better candidate. This is really important for Serbia as in two of those matches are against quality sides (Slovenia, Italy). This is where the team as a whole has to manage to not lose any points from those teams and if anything share them while gaining points against the two weaker teams (Faroe Islands, Estonia).
With Euro 2012 the next big tournament and with Serbia being drawn into a group with Italy and Slovenia they have to get things right fast. So a scheduled friendly game vs Greece gave them some time to try out some newer players as Greece is also trying to re-identify itself. However this game proved only what many critics have said in the past, we lack a quality striker. Greece defeated Serbia 1-0 In Belgrade. I was glad to see Stojkovic not play in goal. He has had no form since his Zvezda days. So I was glad to see Andjelko Djuricic play in goal. The only thing that bothered me more was seeing the exact same team from the World Cup play in a friendly. The whole point of a friendly is to try new players or players who are usually on the bench, although Tosic, Kacar and Mrdja were featured I would have loved to see Sulejmani, Aleksic, Matic, Tadic, and several others make some 1st team appearances. But Antic supports his claim that we have a great side and shouldn't change anything. Hard to explain when Zigic and Pantelic can't get you goals.
Other than that game our future does look bright for Serbian football. In terms of defense this is somewhere we do not lack and shouldnt change anything. The two full backs Ivanovic and Kolarov are great going up and coming back. The central defense shouldnt change much either. Vidic will remain but look for Subotic and Lukovic to be fighting out to be paired with Vidic. I personally think Lukovic had a great World Cup minus his red card. But Subotic has lots of potential and is very young. The Midfield will see some new faces. Krasic and Jovanovic will play the wings with an aging Stankovic in the middle of the park. However I would love to see Stankovic retire from the national team. I think he's past his prime and hasn't showed much in these big tournaments. Players like Jankovic, Kuzmanovic and Tosic need to be regulars. Tosic has a prolific goal scoring record with the National team but he doesnt get the playing time.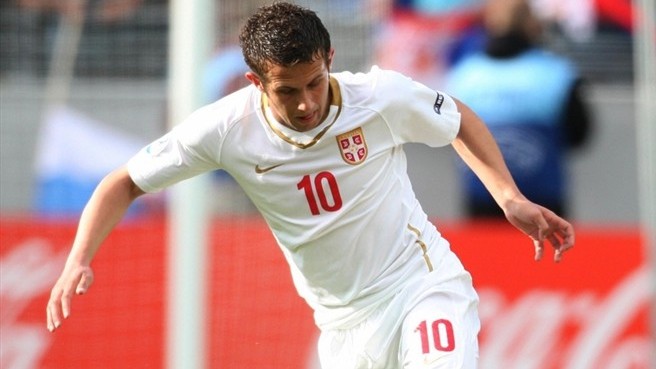 As for the forwards. Thats the biggest problem, Zigic has shown only two be successful in the air. But is usually well marked to do anything. Pantelic is not a complete forward. Most of his goals are in the 18 yard box through loose rebounds, deflections or 1on1s with the keeper. Dragan Mrdja who was the leading goal scorer in the Jelen League and was on great form internationaly and club level should have been thrown in the World Cup to see what he can do. Miralem Sulejmani is a player who hasnt played for Ajax this year, and failed to get moved on loan to West Ham but he has great skill and should be a 1st choice for Antic. If they can develop Suljemani and Mrdja and have Lazovic subing them off and to be there backup they should have more firepower than they did. Danijel Aleksic is still too young to play in these important qualifiers We need to do the right thing now and that is to develop these strikers. Serbia hasnt had a great striker since Kezman. So I know many people are disapointed in Serbia but look at our future and it should make you happier. We have very young and talented players, there is no wait to rebuild we have the pieces already thanks to great Under 21 accomplishments over the years.
Subscribe

Serbia World Cup Team Blog RSS Feed

Share
Comments

Don't like our defense . Lukovic is outrun and outmuscled by anyone . Vidic ; what was Vidic doing on the Greek goal ; watch the replay . Or even that new goalie ; should have come out for that one . Ivanovic is now injured for the 1st 2 games . Kolorov also injured .
Antic has removed Pantelic for the first few games . It will be Zigic , Lazovic and Mrda up front .
I don't know . Things appear to be a bit chaotic right now . Hopefully Antic has an answer for our leaky defense and bad shooting . This team has great potential but somehow not totally clicking .
Comments are closed