Easy 3 Points for Serbia
September 6th, 2010 | by: Bojan |

Comments(2)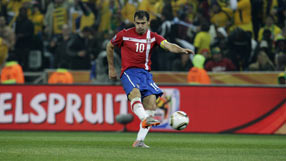 Serbia opened their first game for qualifying in the Euro 2012 with a group c encounter against the Faroe Islands with a 3-0 scoreline. The goals came from Danko Lazovic, Dejan Stankovic and Nikola Zigic. The side looked very similar to the World Cup side. Minus Stojkovic in goal and Pantelic not playing. Looked as in the same team. In the game Serbia dominated and had a 2 goal lead going into halftime. It really should have been 4 or 5. But again lacking a quality striker we can't even blow these weak teams apart. Zigic added a late goal after the Faroes were putting on a bit of pressure in the second half as we seemed to take our foot off the gas. Nothing new for our side, and not too impressive. But nonetheless 3 points obtained is what we were aiming for and we got it.
Next up for the Eagles is Slovenia as we welcome them to Belgrade. They lost there first game to Northern Ireland. 1-0 in Maribor. So expect Slovenia to come out and play for 3 points after that defeat. They hold a solid record against the Eagles with 4 draws. However be it back in the Zahovic days as he was there usual talliesman. On thing the eagles cannot do is play for a draw. This is where we need to seperate ourselves from a lucky side, or a side that can play good football on there day, to an elite team. We must secure 3 points from Slovenia and or Northern Ireland. With Italy to come we can only lose points to the team that closest to grab 1st place. We can't give these outsiders a chance to make the playoff or finish 1st. I expect Serbia to beat Slovenia 2-0. We have a great home record and I expect us to play defensive and soak up the pressure that Slovenia will be giving us and hit them on the break. They will come out flying in Belgrade as a loss would eliminate them from the competetion.
Subscribe

Serbia World Cup Team Blog RSS Feed

Share
Comments

Slovenia will come out hard… it will be a good game

Serbia created alot of chances against the Faroe Islanders. But its faroe islands, Slovenia is a much better team. I'm still waiting to see what Serbia can do against real competetion. They either show up or lose dramatically. Such as the world cup, they beat Germany but lost in dramatic fashion to Ghana and Australia.
Comments are closed