Antic Fired As Serbia Coach!
September 20th, 2010 | by: Bojan |

Comments(21)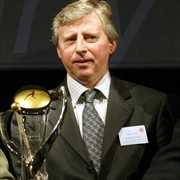 Radomir Antic has finally been fired. There were rumors of this after the poor results in South Africa but after suffering a draw against Slovenia at home it finally happened. Tomislav Karadzic the president of Serbian Football Federation said "Our board feels that the team has not been managed properly after qualifying for the World Cup and that Antic is an excellent coach but not for the long term." He also stated "We are aware that it is bad to change a coach during qualifiers, but we have to take that chance."
In comes Vladimir Petrovic who is currently coaching Romanian side FC Timisoara. Vladimir Petrovic stated "I know all the players, but I only have a very short period in front of me so I do not want to change the playing staff." "I believe that my main goal is to fix the atmosphere in the national team and to qualify for the European Championship finals in Poland and Ukraine." He is also gone on to say he will call up players from his under 21 days where he took Serbia & Montenegro to the finals to only lose to Champions Italy.
My opinion of this change is a good one. Antic had blended a team that was mostly composed of Javier Clemente. He embarassed Serbia in the World Cup other than a big win against Germany. Being banned 4 games from FIFA also played a huge part in his dismissal. In comes Petrovic who personally I only see the FSS geting him because the price was right. He will not be able to fix the problems with the team. Thats something the player will have to do on there own. He is not a name that will come into a side and change things as Militinovic or Stojkovic and others are. He is simply there to just coach a team that is having problems not being able to fix them. He already talked about calling up some players from the Under 21 side of 2004. Most of those talents either play for Serbia currently or play for Montenegro. So I dont see this coach doing much now as in the long term. What makes it worse is he known for being very defensive. We dont need to go back to the days of Duljaj and Nadj and Jokanovic and have a very defensive midfield. It's bad enough Stankovic plays defensive for Serbia but attacking for Inter.
In all fairness the best coach recently that Serbia had was Clemente. He brought in a whole youth of players and gave them national team experience. The only problem was that we were in a tough group with Poland, Finland, and Portugal. If we had given him time im sure we would have went far in the World Cup. It's different when you bring in a coach of different nationality or of a big name. He wants to shake things up and wants to make his name look good by achieving success. Petrovic is not the right man, he will be told who to call up who to play and such. Crvena Zvezda and Partizan need to sell players too.
If this plan works and they do qualify for the EURO than its more the players responsibilities to perform. So far we've seen a team underachieve. Serbia always has one of the best teams in the world on paper but can never show it in the big stage. Back in the day Stojkovic, Jugovic, Mijatovic, Milosevic and others played for a country that they felt no longer existed and represented that country with pride. I remember when they would crush the Faroes by 8 goals. Or play draws with Brazil. So you would think with the country now being Serbia these players would show up but they still dont. The only players who play with some pride are Stankovic, Vidic, Ivanovic and Jovanovic. The rest can't perform like they do for there clubs. All you can do is just wait and see what we do against Estonia and the Italians.
Subscribe

Serbia World Cup Team Blog RSS Feed

Share
Comments

Your right, its not the coaching, its the players, they are playing terriable since world cup, I think the best thing is to call up new young players and forget about this euro qualifying

Antic deserved to be fired! I hated his non attacking style in the world cup. Whats worse is this guy is more defensive. Unless he can pull off a Petkovic of the past and go through qualification with only 1 goal against than we would be able to qualify.

Should have brought in Lothar hes with Bulgaria now!

Hey , somebody is deleting my posts ?

I posted this earlier but got deleted . Cloe , the Brazilian that plays for Partizan as striker , just got Serbian citizenship . He won't play against Estonia and Italy in October but it is expected that he will eventually join the Serbian national team . If he loves our people and country , then I say he is one of us and why not .
Also Petrovic is interested in some young Salatic that plays in Switzerland .

Cleo is a great player and respects the country and plays for Partizan, but realistically he would have done the same if he played at an italian club, german, or whatever club, it wasnt as if he was interested in Serbia, its just because he plays his football there.

I take it you are against him playing for Serbia then . I am for as long as he is scoring .
There are a lot of people who visit Serbia who really like Serbia and Belgrade . Not everyone likes Berlin or London or even Rome . He is maybe one of those , like De Niro , who like Serbia so much they think they could be partly Serb .

But do we want to be like the croats? Eduardo brazilian croat, and now cleo for us, one thing we always did was be fair, our players, our talent, at least have some serb in you like kuzmanovic… this just seems like a desperate cry for a talented striker, if we never lacked a goal scorer no one would be making this a big deal, If we just played our defensive style we can win games 1-0 all the time, but now with this new fullback play, our two wing backs ivanovic, kolarov, are moving forward to much and we have to rely on Stankovic to play a defensive midfield position, I feel we should have just played with a flat back four and we wouldnt need to get a brazilian striker no point of us scoring 3 goals because we concede 1 or 2, lets just not concede any and win by 1

what a bunch of fucking war-mongering, violent, primitive bastards your lot are. fuck the serbs!
Posted from
Canada

Quite harsh and not to mention totally ignorant. How can you judge an entire country by the actions of a couple hundred idiotic hooligans?! Douche bag…
Posted from
Canada

Bring on Cleo! Brazilian, Serbian, whatever. Who cares!! We're the only country in the world that does not have 1 foreign player. And I think the results speak for themselves. Forget the whole "nationalist" thing about "our team is pure, we don't need a foreigner, blah blah". Obviously, that mentality is not working for us. At this point, bring on anybody that can do the job up front and Cleo is that guy. Look forward to seeing him in the red, blue, and white.
Posted from
Canada

the only thing that's "harsh" is the reality that you balkan fucks are a cancer to humanity.
Posted from
Canada

Wow, did a Serb cross you back in the day or something?! Maybe bang your girl?! Soooo bitter…. And still an ignorant douche bag lol
Posted from
Canada

Don't let this low-life get to you . He is no better than the thug in the stands . Has no job , no girlfriend and is looking for someone to blame .
Posted from
Canada

Well , it is a real shame we didn't get to see Italy and Serbia play . We will never get to know the actual outcome but I suspect we were going to lose anyway . We played decent that 1st 5 minutes is true . The problem for me was that 1. Rajkovic's tackle was really bad and he got a yellow card . 2. Even though Italy were offside on their goal , it seems they had our defense in serious trouble there . Overall , it still looked very similar to all our previous matches that we had done poorly in … anything could have happened of course .
As for the hooliganism , I think things happen for a reason . Our system and country is in chaos and I think some kind of revolutionary change , good or bad , is going to have to happen sooner or later .
Posted from
Canada

P.S. Is there anyway these forums can be moderated and delete racist , political and profane comments ? Let us know what the situation is with that , thanks .
Posted from
Canada

banging my girlfriend would be impossible given that you fucks procreate with rodents. explains plenty about your vile race.
Posted from
Canada

Exactly! Let's keep the discussion to what matters here and that's football
Posted from
Canada

don't be mad because you were cursed with a small penis and no balls,
also while on the subject, burning an albanian flag is hardly disruptive
Posted from
Australia

mad? what's there to be mad about? waking up in the morning knowing they're not a filthy, peace of shit, war-mongering serb would make anyone ecstatic.
Posted from
Canada

it's impossible, because you don't have a girlfriend, just the dog you fuck
Posted from
United States
Comments are closed