A Point A Piece Leaves Serbia Disapointed
September 8th, 2010 | by: Bojan |

Comments(2)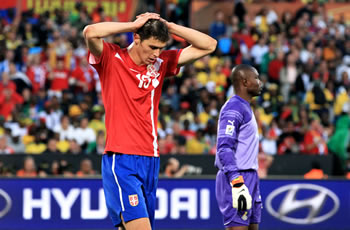 Serbia played Slovenia in their second Euro Qualifying game with the game tied at 1-1. Slovenia had taken the lead in the 63rd minute when Milivoje Novakovic was left unmarked in the 6 yard box and volleyed the cross into the back of the net. Young talent Neven Subotic was guilty of giving him the space. Serbia than had a penalty claim turned down when Danko Lazovic was off to the races in a one on one with the keeper only to be clipped from behind but nothing was called. From there Serbia knew they had to press and a great cross from Antonia Rukavina was directed goalwards from the head of Nikola Zigic in the 86th minute. The match finished 1-1 which was fair.
Serbia didnt play so great, they gave away too many balls and Zoran Tosic and Milan Jovanovic were ineffective from the wings. Milos Krasic was brought in for Tosic but could not fair any better. When you can't play from the wings it seems we can't score. Our only target Zigic must be used for his aerial threat and if you can't give him the support than you might as well play for a draw in which we seemed to be doing. Again like I have written before we lack a true quality striker. We are playing this style only to suit our lengthy striker. We do play attractive football when we keep it on the ground. But without a proper finish man this is our only outlet. The Slovenian's did look good, they came out to play. You can say because of the break up of Yugoslavia everyone seems to perform better in these kind of matches. Or maybe it was because with that opening loss in Maribor they needed to go for the win.
The biggest disapointing part was not picking up the 3 points and being rescued of defeat at home. After such a disapointing World Cup this is where you want to gain back support from your country and should be winning every game at home. But it was good to see them not lose points. However again just like Australia they only seem to be up for it when they are down and thats when they play better football.
Overall it's still early and being unbeaten is a good thing, with Estonia coming up it should be another 3 points. The Italy game will be the decider, the team that beats Italy will be the team in 1st and with the rising talent in European countries you do not want to be second and have a playoff. So they need to get this chemistry going and figure out whats best for them tactically and not lose anymore points until Radomir Antic is back. At least than they can blame it on coaching and not themselves.
Subscribe

Serbia World Cup Team Blog RSS Feed

Share
Comments

This is the 5th draw for these two teams!!! no winner, lets find out in Slovenia

We have a new coach guys . Vladimir Petrovic . My understanding is he is very defensive minded and plans to add couple more defensive players to the roster ; everything else will stay the same . Normally , I would cringe at the word defensive but in our case , things most definitely must be tightened up at the back . IMHO our defense is bad . I hope also that some semblance of attacking football , that Antic instilled , will remain . The new caoch says he won't hesitate to ask Antic for advice . We will see what the games against Estonia and Italy look like early October .
Comments are closed